Thundermans in Paradise is the 3rd episode in Season 2 of Paradise Run.
Summary
"The Thundermans" are on Paradise Run! Kira Kosarin, Addison Riecke, and Ryan Newman pair up with their biggest superfans to zip into a 70's dance party!
Teams
Team Makani: Ryan Newman (18; portrays Allison from The Thundermans; playing for Heifer International) & Katelyn (12)
Team Nalu: Kira Kosarin (18; portrays Phoebe from The Thundermans; playing for Camp Del Corazon) & Beckham (11)
Team Ahi: Addison Riecke (12; portrays Nora from The Thundermans; playing for Children's Hospital of L.A.) & Prasa (13)
Challenge 1 - Snorkel Talk
One teammate had to put a snorkel in their mouth & the other had to grab four pieces of designated snorkel gear from a shop via talking from the teammate who had that snorkel in their mouth (the teammate w/ the snorkel in their mouth had to get four items from a DIFFERENT shop). The souvenir they had to grab upon completion was a coconut.
Challenge 2 - Pupule Lei
A colored lei combination at the top of a water slide had to memorized & put together correctly before it could be placed on a guest.
Challenge 3 - Paradise VIP
Costumes were placed into the lagoon. They had to put one on, get into a paddle boat & remember an eight-bracelet color sequence. That order had to be placed on a "chaperone".
Riddle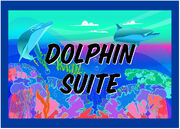 BOTTLENOSE OF THE SEA AND FRIENDLY AS CAN BE
Finish Line
Winners - Nalu
2nd Place - Makani
3rd Place - Ahi
Trivia
Jack Griffo who plays Max from The Thundermans, appears to cheer the teams on.
Community content is available under
CC-BY-SA
unless otherwise noted.