Puzzles in Paradise is the 19th episode in Season 1 of Paradise Run.
Summary
Three pairs of teammates scramble to match a funny set of hula outfits. Then, they rush to the pool to toss tubes onto slippery islands before using their smarts to solve a very special puzzle.
Teams
Team Makani: Cameron (13) & Alexus (11) - Brother/Sister
Team Nalu: Vance (11) & Cavin (11) - Baseball Teammates
Team Ahi: Hi'ilei (11) & Aria (11) - Best Friends
Challenge 1 - Hu La La
On Lagoon Beach, they had to look carefully at two hula dancers & put on the exact same attire as the dancers.
Order of Completion
Ahi
Nalu
Makani
Challenge 2 - Tiki Towers
10 tiki tower pieces for each team were scattered. As soon as they built their tiki tower, they would progress.
Order of Completion
Nalu
Ahi
Makani
Challenge 3 - Tube Toss
At the Kona Pool, a "bracelet" of 12 innertubes had to be built & those innertubes needed to be brought ashore.
Order of Completion
Nalu
Ahi
Makani
Riddle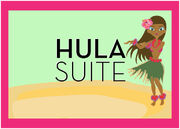 YOU DON'T NEED PANTS FOR THIS HAWAIIAN DANCE
Order of Completion
Nalu
Ahi
Makani
Finish Line
Winners - Nalu
2nd Place - Makani
3rd Place - Ahi
Community content is available under
CC-BY-SA
unless otherwise noted.