Paradise Express is the 15th episode in Season 2 of Paradise Run.
Summary
In a nail-biter, three teams of kids must cool down a volcano and find hidden cell phones to win a tropical vacation.
Teams
Team Makani: Guy (12) & Logan (11) - Camp Buddies
Team Nalu: Hailey (12) & Hunter (12) - Twin Brother/Sister
Team Ahi: Joseph (11) & Andrew (11) - Twin Brothers
Challenge 1 - Where's My Phone?
Each dad had the keys to the trunk of a Chrysler Town & Country & the teams had to take everything out. After they found their three cellphones, they had to follow the instructions texted to them on each phone.
Order of Completion
Nalu
Makani
Ahi
Challenge 2 - Paradise Express
Both teammates would have to put together two package puzzles; the package recipient names sounded like food names.
Order of Completion
Nalu
Makani
Ahi
Challenge 3 - Pele's Volcano
Teams first had to put on headpieces to transfer enough water to fill a volcano's cylinder. As soon as their cylinder overflew, they could say "Pau" & continue.
Order of Completion
Ahi
Makani
Nalu
Riddle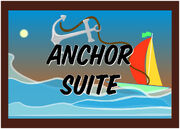 THROW THIS IN THE OCEAN TO STOP YOUR BOAT'S MOTION
Order of Completion
Ahi
Nalu
Makani
Finish Line
Winners - Nalu
2nd Place - Ahi
3rd Place - Makani
Community content is available under
CC-BY-SA
unless otherwise noted.