Panic Under the Falls is the 6th episode in Season 1 of Paradise Run.
Summary
An aquatic adventure awaits the teams as they duel with waterfalls for beach balls, then paddle through the waters for a gnarly spelling bee before they check out of their hotel rooms in time.
Teams
Team Makani: Michael (11) & Malia (11) - Twin Brother/Sister
Team Nalu: Eva (11) & Rain (11) - Surfer Buddies
Team Ahi: McKenzie (11) & Alyssa (11) - Dance Buddies
Challenge 1 - Beach Ball Falls
10 beach balls had to be collected in the caves (including two big ones) & put in a basket (they were using paddle boats).
Order of Completion
Makani
Nalu
Ahi
Challenge 2 - Island Chain
When they got to the bottom of the Grand Staircase, they would have to step on each lettered island in HAWAII & paddle each island back to shore. The moment the chain was completed, they could attach it to the dock's end.
Order of Completion
Nalu
Makani
Ahi
Challenge 3 - Quickie Wiki Express Checkout
They had to clean their room in the Ocean Tower, including their mannequin parents.
Order of Completion
Makani
Ahi
Nalu
Riddle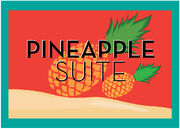 HAWAIIAN FRUIT YOU BAKE INTO UPSIDE DOWN CAKE
Order of Completion
Makani
Ahi
Nalu
Finish Line
Winners - Ahi
2nd Place - Nalu
3rd Place - Makani
Community content is available under
CC-BY-SA
unless otherwise noted.