Lava Reception is the 8th episode in Season 2 of Paradise Run.
Summary
A boiling volcano, epically lost phones, and mixed-up mail in the lagoon, challenges three teams of best friends in paradise.
Teams
Team Makani: Emma (11) & Piper (11) - Cousins
Team Nalu: Josh (12) & Sir (12) - Classmates
Team Ahi: Rheylie (11) & Micah (13) - Dancing Partners
Challenge 1 - Pele's Volcano
Teams first had to put on headpieces to transfer enough water to fill a volcano's cylinder. As soon as their cylinder overflew, they could say "Pau" & continue.
Challenge 2 - Where's My Phone?
Each dad had the keys to the trunk of a Chrysler Town & Country & the teams had to take everything out. After they found their three cellphones, they had to follow the instructions texted to them on each phone.
Challenge 3 - Paradise Express
Both teammates would have to put together two package puzzles; the package recipient names sounded like food names.
Riddle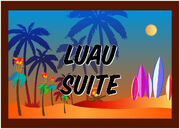 A PARTY WHERE HAWAIIANS EAT PIT-ROASTED PIG MEAT
Finish Line
Winners - Ahi
2nd Place - Makani
3rd Place - Nalu
Community content is available under
CC-BY-SA
unless otherwise noted.