I Scream for Ice Cream is the 7th episode in Season 2 of Paradise Run.
Summary
To the Paradise prize, BFFs battle cousins to be VIPs, make a massive waffle-cone treat, and tune up a ginormous ukulele.
Teams
Team Makani: Kailea (11) & Noe (11) - Best Friends
Team Nalu: Gilbert (14) & Kira (11) - Cousins
Team Ahi: Sy'aire (12) & Sean (12) - Best Friends
Challenge 1 - Paradise VIP
Costumes were placed into the lagoon. They had to put one on, get into a paddle boat & remember an eight-bracelet color sequence. That order had to be placed on a "chaperone".
Order of Completion
Makani
Nalu
Ahi
Challenge 2 - Ice Cream Kona
One flavor at a time, a teammate had to call out a flavor the other teammate had to get after going down a water slide; s/he had to put that flavor of I.C. on the giant scoop & into their cone. They would switch places after each flavor & after six flavors, they could put W.C. & a cherry on top & move onto their 2nd task.
Order of Completion
Nalu
Ahi
Makani
Challenge 3 - U-Key Tune Up
A giant ukulele had to be put together (this included the team needing to find the peg of their color).
Order of Completion
Ahi
Makani
Nalu
Riddle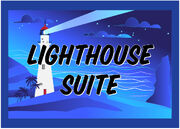 TOWER THAT SHINES BRIGHT GUIDING SHIPS AT NIGHT
Order of Completion
Ahi
Nalu
Makani
Finish Line
Winners - Nalu
2nd Place - Ahi
3rd Place - Makani
Trivia
This episode recorded the longest run.
Community content is available under
CC-BY-SA
unless otherwise noted.