Forgive You Not! is the 9th episode in Season 2 of Paradise Run.
In a Hawaiian Paradise, three teams of BFFs and siblings battle for a family of turtles, sport a sumo-size sponge suit, and run to a very wet wedding.
Team Makani: Kainoa (13) & Tiago (13) - Best Friends
Team Nalu: Michael (11) & Sophia (13) - Brother/Sister
Team Ahi: Bella (12) & Kae (11) - Best Friends
Challenge 1 - Honu HatcheryEdit
They have to find 8 eggs,pop them and release them back in the lagoon.Edit
Order of CompletionEdit
Ahi
Nalu
Makani
Challenge 2 - Bridge Out, Check-InEdit
While the main bridge was out of order, eight pieces of luggage had to be moved from the lagoon to shore. That luggage & a dad had to be placed onto a hotel cart & moved across the bridge that was working to a wedding chapel.
Order of CompletionEdit
Nalu
Makani
Ahi
Challenge 3 - Hug It OutEdit
They would put on a hug suit & have to hug together four pieces of meat (each one of which had something youngsters do to annoy each other on the bottom) using water; each meat had to be dropped into a container.
Order of CompletionEdit
Makani
Ahi
Nalu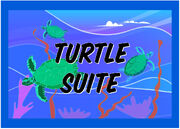 GREEN SEA ANIMALS DWELL IN A HARD SHELL
Order of CompletionEdit
Makani
Ahi
Nalu
Finish LineEdit
Winners - Nalu
2nd Place - Ahi
3rd Place - Makani